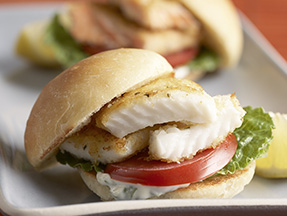 Alaska Sole Sliders
Prep time: 20 minutes
Cook time: 15 minutes
Servings: 4 (2 sliders each)
3/4 cup breadcrumbs
1/2 teaspoon salt
1/4 teaspoon dried basil
1 pound Alaska Sole fillets, cut in 2-inch portions
Canola or olive oil spray, as needed
3/4 cup mayonnaise
1/2 cup fresh basil, julienned
1 lemon, zested
2 Tablespoons fresh lemon juice
2 Tablespoons capers, coarsely chopped
1/2 teaspoon sea salt
8 mini hamburger buns (or dinner rolls) about 2 to 2-1/2 inches in diameter, split
8 small romaine or butter lettuce leaves
2 Roma tomatoes, sliced
Mix breadcrumbs, salt, and basil together. Press the breadcrumb mixture onto each Alaska Sole portion. Chill the pieces on a parchment-lined tray for 30 to 60 minutes.
Cook sole fillets in lightly oiled nonstick pan over medium-high heat until golden brown and opaque throughout.
In a small bowl, whisk together mayonnaise, basil, lemon zest and juice, capers and salt. Toast the buns and spread about 1 tablespoon basil-mayo aioli on cut side of each bun. On bottom halves, place lettuce and slice of tomato. Top with fish, then close with bun top.
Nutrients per serving: 257 calories, 11g total fat, 1g saturated fat, 37% calories from fat, 31mg cholesterol, 11g protein, 30g carbohydrate, 1.5g fiber, 757mg sodium, 49mg calcium and 660mg omega-3 fatty acids.
RECIPE AND PHOTO COURTESY OF ALASKA SEAFOOD