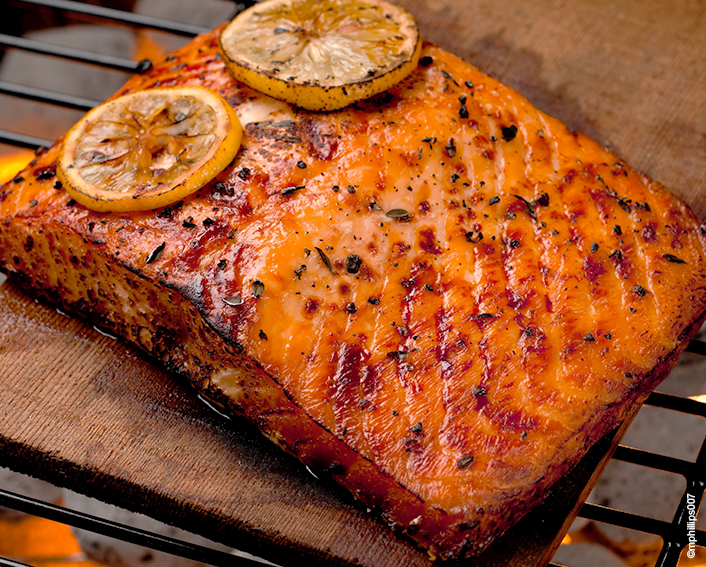 Wood + heat = smoke. In this case, it's fragrant cedar smoke, which cures the outside of the salmon, locking in moisture and flavor. Follow the directions below to get perfectly grilled wild Alaska salmon every time.
SOAK
Soak the cedar plank for 1 hour. Weigh it down with something heavy to keep it submerged. If you are feeling adventurous, soak your cedar planks in wine, beer, juice or stock.
PREHEAT
Preheat grill to medium heat, 350°-400°F (177°-205°C).
SEASON
Rub the salmon with freshly minced garlic, and then coat the top with brown sugar. The brown sugar will caramelize the fish and help maintain the color. Use salt and freshly cracked pepper to taste.
COOK
Do not use oil on the plank. Adding oil will create flames, excess heat, and will prevent the skin from sticking to the plank. Place one salmon portion on each cedar plank, skin side down, then place the plank in the grill. Cook with the lid closed to allow the smoke to flavor the salmon. Cook until the salmon flakes easily with a fork, or the internal temperature reaches 145°F, approximately 10 minutes or less for a 1" salmon. When the salmon is finished cooking, simply slide a spatula between the salmon and the skin for easy removal, garnish with fresh herbs and lemon and enjoy!
Are cedar planks reusable?
If the grilling plank is in good shape after the initial use it may be reused, although it's not recommended. Keep in mind that it will take on the flavor of whatever was grilled on it, and most of the oils from the wood will be gone after the first round of grilling. If the plank is charred, it should not be reused.
Can cedar planks be used in the oven?
Yes, using cedar planks in the oven will infuse the salmon with steam, keeping it moist and adding the flavor of the wood. Unlike using the cedar plank on the grill, it will not smoke.
SHOP NOW: Gourmet Cedar Grilling Plank